Nina Kristofferson's Billie Holiday Story - review
Charing Cross Theatre
Published:

Tuesday, April 9, 2013 2:35 PM

| Review by:

Gillian Fisher

|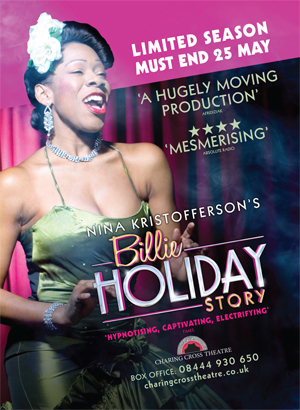 The lights dim as the five piece jazz band steps onto the stage. The clear chime of the piano keys break the silence as the double bass thrums into life and the beat of the drum kit sets the rhythm. The harmony builds as the brassy peal of the trumpet and saxophone take the symphony to a resounding crescendo and the woman in white takes her place before the microphone. The single spotlight shines on her ruby red lips as they part and that smooth voice sounds each individual word with a pulsing resonance. A fine romance indeed as Lady Day takes to the stage once more.
It is impossible to overestimate the influence that Billie Holiday had upon jazz and indeed every genre of modern day music. Her ability to feel the music and unite with her audience in that raw emotional experience is unrivalled. It's that raw emotion which Nina Kristofferson brings to her performance of this one woman show written by Kristofferson herself. A classically trained opera singer with a flair for jazz, the soloist croons Holiday's legendary hits with stunning facsimile. Her voice rolls with the same depth and undulation of Holiday's as classics such as 'Don't Explain' and 'Good Morning Heartache' fill the theatre.
There is no doubt that Kristofferson an exceptional singer, but the show is not simply a Billie Holiday cover concert. Rather it is an exploration of the jazz icon's life and the experiences which shaped her not only as a singer, but as a woman. The show is framed as a one night only club performance and Will Bowen's set of a footlit stage with a stylised New York backdrop sets the scene superbly. After informing the audience "So long as we're jamming, I'm happy" Holiday recounts past events with a chatty and offhand ease in between her soul churning songs. At times the singer becomes distressed, in particular as she divulges the horrors she experienced as a child which she quickly shakes off by swigging from a bottle of vodka. The songs are also cannily chosen to narrate Holiday's journey and emotional state. Her mother's refusal to provide Holiday with money is powerfully expressed by 'God Bless the Child' as is the singer's determination as she sings 'Hang on in' at her first audition. Holiday's addictions and personal problems are also laid bare in the show and in between her songs, anecdotes and playful quips to the audience we see glimpses of her deteriorating mental state.
This ambitious production delivers on every level. Kristofferson recreates Holiday's vocal swoops and tight intonation masterfully as the jazz band performs flawlessly in their fedoras and brogues. Kristofferson's skilled acting along with the tight direction by Ben Woolf creates the most vivid profile of a woman who substituted an audiences' applause for love. A hugely moving production.
Related links
Nina Kristofferson's Billie Holiday Story spring 2014 tour date
Nina Kristofferson – interview