Hell Hath  No Fury like Vanessa Walters

What do you mean he can't be in my play?  Why not?  Why can't he do the dates? What do you mean he's out of the country – the play's in November.  This is August.  What film? Where the hell is Hollywood?  Who the f**k is Steven Spielberg?   What do you mean I've lost the plot? I wrote the bloody plot.'
Forgive me my trespasses – I'm a writer -  just a few sheets of paper stapled together hidden in the slush pile on an abandoned desk beside a  cavernous paper recycling bin. I am nameless, faceless, ageless and sans-papiers.   I am a headline, an idea, a synopsis. I am the unread tome that will change your life, the phantom guest on Oprah's book list.  I am the total sum of my experiences transferred to the blank page. The father who didn't show me any love. The mother who dominated me.  The city that raged around me.  The streetlamp outside my window that couldn't make up its mind. On or off?   Truly the rich tapestry of my life,  I am the words strung together to form my unique patchwork quilt. 
Scribero ergo sum. I write poetry, novels,  short stories,  plays , opinionated blogs and film scripts in no particular order and with varying degrees of success.  They generously bleed into each other like London's seasons, occupying my thoughts with the fits and starts of a split personality. 
I'll never forget an editor at The Voice Newspaper telling me when I was working on the Young Voices column – 'Its only words. Don't get too attached.'  At this point, I had published my first novel and was studying law.  'Don't get too attached!  Are you kidding me?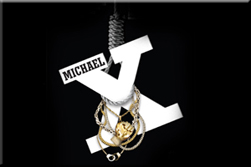 Ok.  I'll admit it. I'm too attached.  The play in question is Michael X, which I wrote last year while working as writer in residence for Kensington and Chelsea.  I found him in a dusty corner of the local studies section. An out of print autobiography that had lost its jacket. I took him home and fell in love.  MX was the ultimate pimp and hustler who eventually became a political radical and truly terrible poet.  He  said what he thought, not necessarily what he ought.   He charmed his way into women's beds and onto the front pages of newspapers . Like a moth to a flame he courted attention until it killed him.  He was convicted of murder and hung in 1976 then dumped in history's garbage chute. He was the sort of person you could never read.   Would he kiss you or kill you?  Or both?  This black British leader saw himself as starting a new civil rights movement in Britain similar to that taking place in America.  He almost achieved it too, the most famous black man living in Britain in the 60's.  Unfortunately, people were so hung up on his gold-topped cane swinging, ring on every finger wearing, persona – their mouth gaped open – their ears snapped shut.
I know there will be another lead actor.  The world is full of out of work actors – most of them auditioning  on Jeremy Kyle every morning.  I need to breathe and move on – but.
'He loved the script but the timing wasn't right'
I can see his agent now, speaking languidly down the phone as she skims through a copy of OK magazine for her next client.
'It's nothing to do with the fact that your play is just a six night gig at The Tabernacle.  He loves these quirky little roles usually.   He thought your script was great.  Bring it back in a few years when you're famous.  Look I gotta

go.  But good luck with Malcom X and send me an invite. My intern might attend.
"Its Michael X."
Dead line.
I could go on but that would be another play altogether.